Aplenty Icon Unveils A Brand New Collection Of Texas Apparel To Celebrate The Vibrancy Of The Lone Star State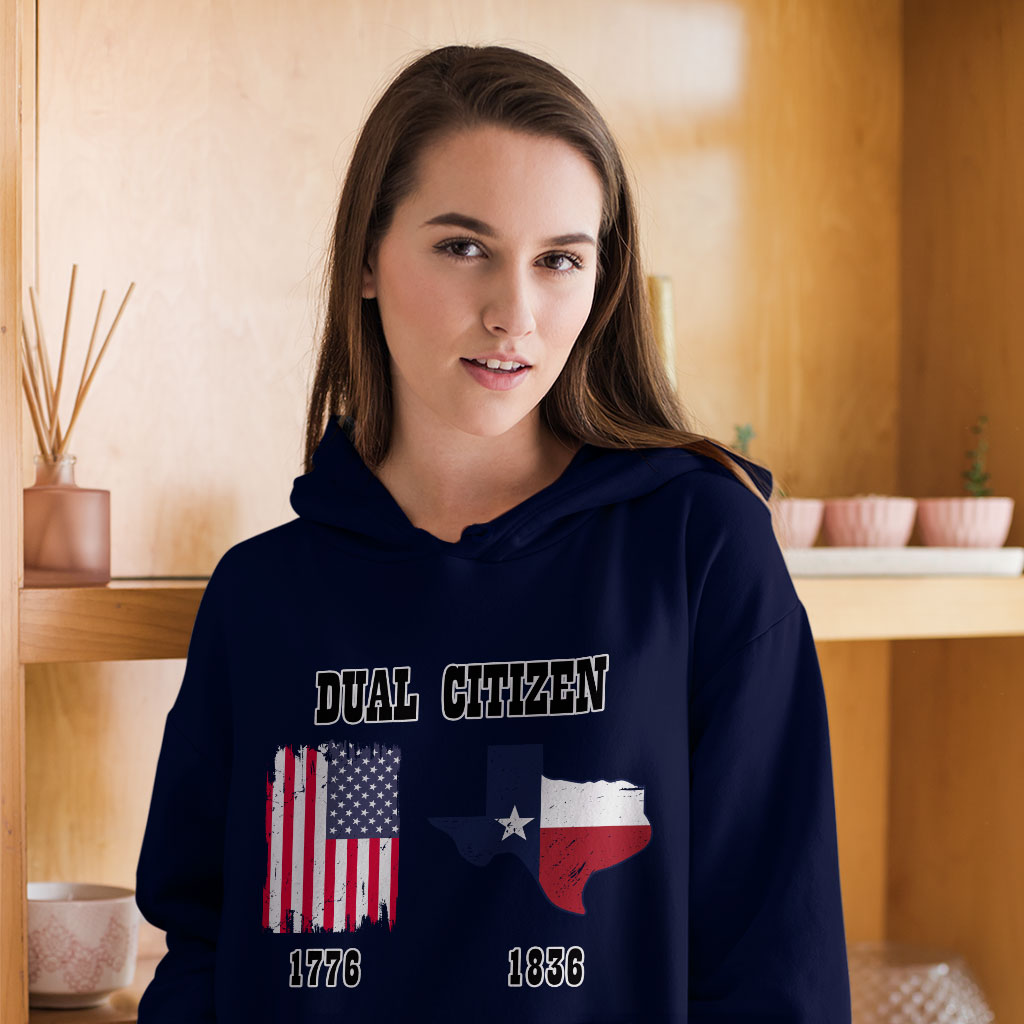 Dual Citizen Hooded Sweatshirt
Looking for a cozy piece to keep you warm during the cooler months?
Check out America Hooded Sweatshirt! This sweatshirt is perfect for those chilly days and nights. Plus, it has a hood to keep you extra warm. So don't wait any
longer, order your Colorful Hooded Sweatshirt!
Aplenty Icon announces the launch of its new collection of Texas-specific apparel
collection.
Aplenty Icon, a powerful brand associated with creative fashion designs that go on to set trends, has announced the launch of its Texas Apparel collection. These clothes are designed to meet the styling needs of the people of Texas and can meet the desires of Texas citizens of all ages.
"We are happy to announce the launch of our Texas-inspired apparel collection. Designed with you in mind," says the spokesperson for Aplenty Icon. "The collection honors the vibrant culture, rich heritage, and indomitable spirit of the Lone Star State. Whether you're proud local or simply love the charm and exuberance of Texas, our collection can help you make a stunning style statement."
Texas is an iconic state brimming with cultural and historical heritage. The place exudes a rare kind of allure that captivates all. Texas cowboy culture is famous across the globe. The people here are known for their warm hospitality, while the state itself is defined by its breathtaking natural beauty.
The fashion designers at Aplenty Icon have drawn inspiration from the iconic Texas elements and everything else the state has to offer. Their designers have created a range of stylish and high-quality clothing that captures the essence of the Lone Star State.
Buyers can get that distinct Texan feel with the Aplenty Icon collection of adult apparel crafted from premium fabrics and stitched to perfection.
"Our products are designed to offer enduring quality and utmost comfort," the spokesperson added. "Regardless of the event or occasion, we have diverse options to cater to all preferences. Whether you're going for a laid-back look or a more formal ensemble, our inventory has something to suit everyone's taste."
The offerings by Aplenty Icon include a range of tees, hoodies, sweatshirts, socks, bucket hats, and more. Dresses are available for every occasion – from a casual outing with friends to attending an elegant affair or tailgating at a game. These Texas-themed apparel are guaranteed to make a lasting impression.
The T-shirts and tops from Aplenty Icon feature striking graphics and logos inspired by Texas culture. Users can stand out in the crowd by simply wearing a graphic tee featuring the iconic Lone Star, the outline of Texas, or other striking portrayals of Texas pride.
The Aplenty Icon Texas collection is an excellent gift for anyone connected to the Lone Star State. They not only stand apart in quality and style but also reflects the pride the user has about the state.
For more information, visit Aplenty Icon
About Aplenty Icon
Aplenty Icon is the top choice of buyers looking for premium adult apparel embodying Texas's essence. The company deeply understands the cultural and historical heritage of the Lone Star State. Their designers have curated a collection of Texas-inspired fashion wear that reflects its unique style. Every product is designed to ensure long-lasting comfort and exceptional craftsmanship.
Media Contact Details
Company Name: Aplenty Icon
Email: [email protected]
Phone Number: +1 737 710 1291
Address:
14460 Myford Rd, Irvine, CA 92606State: California, Orange County
Website:

https://aplentyicon.shop/
Media Contact
Company Name: Aplenry Icon
Contact Person: Svetlana Mukhovatova
Email: Send Email
Phone: 7608055274
Address:1046 S Cleveland
City: Oceanside
State: California
Country: United States
Website: aplentyicon.shop