Mastocytosis Market is Expected to Expand at a Healthy Growth Rate During the Forecast Period (2022-2032) | Key Companies – Leo Pharmaceuticals, Cogent Biosciences, Novartis Pharmaceuticals
DelveInsight's "Mastocytosis Market Insights, Epidemiology, and Market Forecast-2032" report delivers an in-depth understanding of the Mastocytosis, historical and forecasted epidemiology as well as the Mastocytosis market trends in the United States, EU5 (Germany, Spain, Italy, France, and the United Kingdom) and Japan.
Mastocytosis Overview
Mastocytosis is a condition where certain immune cells, called mast cells, build up under the skin and/or in the bones, intestines, and other organs. This abnormal growth of mast cells causes a range of symptoms, including itchy bumps on the skin, gastrointestinal (GI) issues such as diarrhea, and bone pain. There are 2 general types of mastocytosis: Cutaneous mastocytosis. This type of mastocytosis involves the skin. Systemic mastocytosis. This type of mastocytosis involves the entire body.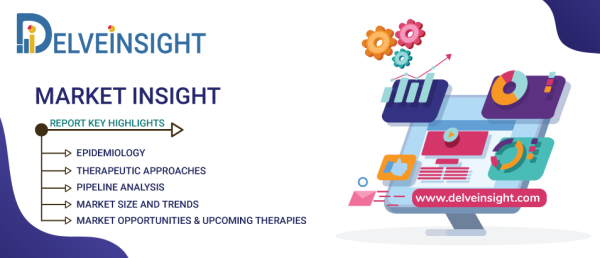 Mastocytosis Epidemiology Insights
A prevalence of mastocytosis of 1 in 10000 inhabitants has been reported, but underdiagnosis is assumed. The prognosis for cutaneous and indolent systemic mastocytosis is excellent. For more advanced forms of the disease, prognostic parameters have been identified.

Mastocytosis is a rare disorder. There are fewer than 50,000 people with this disease in the United States. Mastocytosis generally affects males and females in equal numbers. The disease can begin during childhood or adulthood.

Median survival ranges from 198 months in patients with indolent systemic mastocytosis to 41 months in aggressive systemic mastocytosis and 2 months in acute mast cell leukemia. Systemic mastocytosis.
Click here to learn more about the Mastocytosis Market Landscape
The Report Covers the Mastocytosis Epidemiology Segmented by:
Total Mastocytosis incident cases

Total Mastocytosis prevalent cases

Total Mastocytosis treatment cases

Total Mastocytosis diagnostic cases
Mastocytosis Market Outlook
The Mastocytosis market outlook of the report helps to build a detailed comprehension of the historical, current, and forecasted Mastocytosis market trends by analyzing the impact of current Mastocytosis therapies on the market, unmet needs, drivers and barriers, and demand for better technology. This segment gives a thorough detail of the Mastocytosis market trend of each marketed drug and late-stage pipeline therapy by evaluating their impact based on the annual cost of therapy, inclusion and exclusion criteria, mechanism of action, compliance rate, growing need of the market, increasing patient pool, covered patient segment, expected launch year, competition with other therapies, brand value, their impact on the market and view of the key opinion leaders. The calculated Mastocytosis market data are presented with relevant tables and graphs to give a clear view of the market at first sight. According to DelveInsight, the Mastocytosis market in 7MM is expected to witness a major change in the study period 2019-2032.
Key Companies Working in the Mastocytosis Market
Leo Pharmaceuticals

Cogent Biosciences

Novartis Pharmaceuticals

GT Biopharmaceuticals Inc

FSD Pharmaceuticals Inc
And many others
Mastocytosis Therapies Covered and Analyzed in the Report:
Masitinib

Cromoglicate

TF002

Avapritinib

PA101
And many others
Learn more about the Key Companies and Emerging Therapies in the Mastocytosis Market
Table of Contents
Key Insights

Mastocytosis Introduction

Executive Summary of Mastocytosis

Disease Background and Overview

Epidemiology and patient population

Mastocytosis Emerging Therapies

Mastocytosis Market Outlook

Market Access and Reimbursement of Therapies

Market Drivers

Market Barriers

Appendix

Report Methodology

DelveInsight Capabilities

Disclaimer
Learn about the detailed offerings of the report @ Mastocytosis Market Outlook
Media Contact
Company Name: DelveInsight Business Research LLP
Contact Person: Adya Kaul
Email: Send Email
Phone: 9193216187
Address:304 S. Jones Blvd #2432
City: Las Vegas
State: Nevada
Country: United States
Website: https://www.delveinsight.com/consulting/due-diligence-services