Crystal Jones Launched The New Book "RAW RAW RAW – The Next Level of Eating – No Pots, No Pans, No Cooking"
April 29, 2022 – Montreal, Canada – Crystal Jones launched a new book "RAW RAW RAW -The Next Level of Eating – No Pots, No Pans, No Cooking" AND NEVER DIET AGAIN!
In this book, you can find over 100 delicious recipes that will make you feel good, look good and reduce the aches and pains.
Let this delicious vegan recipe book help you find balanced food & diet. With recipes that are tried and true, you'll be able to enjoy the feeling-good food that all can enjoy and find easy, including your children.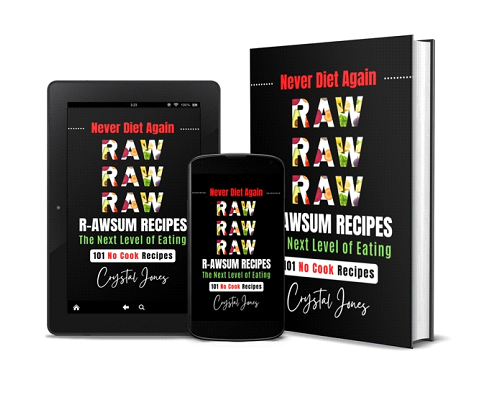 Find these easy recipes with helpful tips and color photographs to help you see what's possible without pots or pans.
The Next Level Eating is plant based and offers delicious, healthy recipes that won't leave you feeling weighed down or frustrated.
Crystal Jones has created a recipe book that's perfect for anyone who wants to live a healthier lifestyle and enjoy the benefits of feeling good and looking good.
In this Raw Raw Raw, No Cook, Cook Book , you'll find healthy and delicious recipes that are low in calories and fat, so you can focus on what's important – pain free living, losing weight and enjoying your food without following any strict diet plan.
With no cooked breakfast, lunch & dinner recipes included, you'll have everything you need to make delicious & nutritious meals that will help you lose weight, feel more energetic, and kitchen cleanup is a snap.
Crystal Jones has been on an eat right mission for years, and her latest book is finally here. The Next Level of Eating is plant-based, raw based food recipes, simple instructions, and budget-friendly recipes to help you lose weight, this book is perfect for anyone looking to start living a more healthy lifestyle.
Make healthy and delicious meals with tasty R-AWSUM easy to follow recipes, requires no pots no pans and no cooking. An easy way to fit into anyone's busy lifestyle.
This next level of eating food has been shown to be healthy, environmentally friendly, & budget friendly.
Start your day with the most nutritious food possible and get the best out of your raw food journey with The Next Level of Eating – No Pots, No Pans, No Cooking – it time to say RAW, RAW, RAW.
More info: https://www.amazon.com/dp/B09YQPF1Q4
Media Contact
Company Name: Slender Naturally
Contact Person: Crystal Jones
Email: Send Email
Country: Canada
Website: https://www.slendernaturally.com/