Veger introduces Mini Power Bank with Plug-In, Power on Fast Charging Feature
Introducing the built-in connector mini fast charging power bank with 5000mAh capacity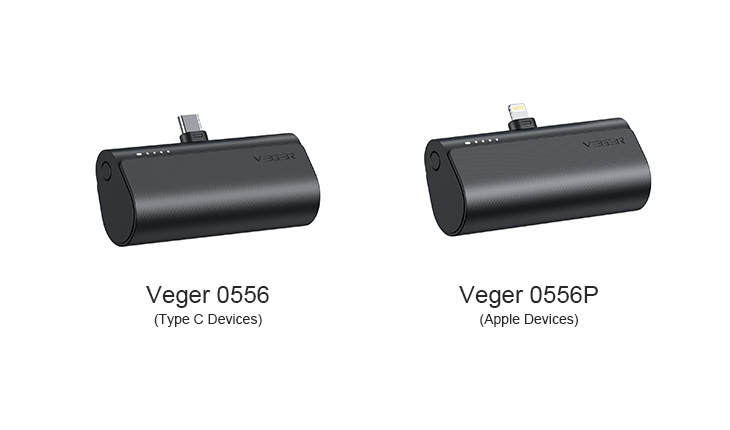 A globally recognized brand, Veger, has penetrated the industry with a premium built-in connector mini fast charging power bank with a 5000mAh capacity. The portable power bank comes with a built-in extended lightning connector that allows users to easily connect it to their phones without having to remove their phone cases. For optimum performance and long-lasting results, the company provides a cap to protect the connector. Another version with the same feature also offers an inbuilt Type C Connector for phones that support type c charging. The product is inexpensive and highly effective in charging devices at an incredibly faster rate. Although the company is based in the United States, it has different factories and offices in South East Asia.
The built-in connector mini fast charging power bank is characterized by its ability to fast charge and recharge. It supports rapid power delivery of 20W, allowing iPhone users to get their phones charged up to 60% in 30 minutes. With no extra cable required, the power bank is accompanied by a portable charger that supports PD/QC3.0. It can also quickly recharge the device in 1.5 hours through the 9V-2A type C input port. Additionally, the power bank weighs 92g with a 3.03″ length, allowing users to carry it to any occasion effortlessly.
With the power bank's 5000mAh capacity, users have nothing to worry about as their daily electricity needs will be met. The product also supports pass-through charging and trickle-charging that can be activated when the wake-up bottom is long-pressed for 2 seconds. An additional perk is that the portable power bank offers optimum results for Airpod charging.
With a 100% focus on customer satisfaction, Veger creates a multi-project safety system to provide the ultimate protection for users and their devices. As one of the top 5 global brands for power banks, the company has been in the business of leveraging the power of technology to create advanced power banks. The company is fast changing how power banks are used by offering extra value through its products.
"The vision of the VEGER is Safe, Reliable, and Affordable. While the majority of the tech companies fail to match their own statement about excellent supply chain, VEGER really does, through word and deed. It started out with the mission to offer the most reliable electronics gadgets at unbeatable prices, valuing the customer's need for service and support. Today, VEGER is one of the top 5 brands in the global power banks market. By combining the latest technology and innovative design, VEGER brings exceptional products at affordable prices. We are best known for excellent service and unique product lines," said the company's spokesperson.
For more information, visit https://www.vegerpower.com.
Media Contact
Company Name: VEGER Power Inc.
Contact Person: Anuj Saroch (Overseas Brand Manager)
Email: Send Email
Phone: +1 (323) 521-4183
Address:228 PARK AVENUE SOUTH #85556
City: NY
State: NEW YORK, 10003
Country: United States
Website: https://www.vegerpower.com/