Why Are More And More People Choosing Aluminum PCB | YMS PCB
In this paper, Yongmingsheng, a manufacturer of aluminum substrate PCB, will introduce the aluminum substrate PCB. We all know that aluminum is a kind of metal with electrical conductivity. How can it be used as a PCB material?
This is because the aluminum substrate consists of three layers of structure, namely: copper foil, insulating layer and metal aluminum.Since there is an insulating layer, can the metal layer use other materials besides aluminum? Such as copper plate, stainless steel, iron plate, silicon steel plate, etc. What kind of material is used for metal substrate, in addition to considering the heat dissipation performance, but also consider the thermal expansion coefficient of metal substrate, heat conduction ability, strength, hardness, weight, surface state and cost and other conditions.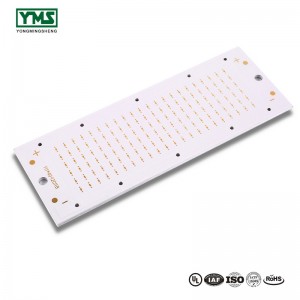 What are the advantages of aluminum substrate?
Good heat dissipation performance
Comply with RoHS environmental requirements
More suitable for SMT process
Higher current carrying capacity
In the circuit design scheme, the heat diffusion is dealt with effectively, so as to reduce the module operating temperature, prolong the service life, improve the power density and reliability;
Reduce the assembly of radiator and other hardware (including thermal interface materials), reduce product volume, reduce hardware and assembly costs;Optimal combination of power circuit and control circuit;
Replace fragile ceramic substrate for better mechanical endurance.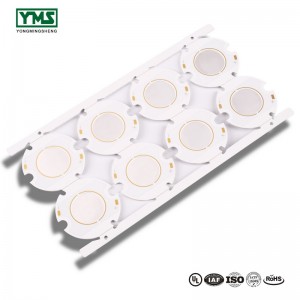 Classification of aluminum substrates
Aluminum based copper clad panels are divided into three categories:
General-purpose aluminum base copper clad plate, insulating layer by epoxy glass cloth bonding sheet;
Aluminum base copper clad plate with high heat dissipation, the insulation layer is composed of high thermal conductivity epoxy resin or other resins;
Aluminium base copper clad plate for high frequency circuit, insulating layer by polyolefin resin or polyimide resin glass cloth bonding sheet.
The main purpose
Lamp products, high power LED lamp products.
Audio equipment, preamplifiers, power amplifiers, etc.
Power equipment, DC/AC converters, rectifier Bridges, solid state relays, etc.
Communication products, high frequency amplifiers, filter appliances, transmitter circuit.
Media Contact
Company Name: Huizhou Yongmingsheng Technology co., ltd.
Contact Person: Joyce
Email: Send Email
Phone: 0086-13902935069
Country: China
Website: https://www.ymspcb.com/