Enkromelle Andrew Shines as the First Female Keynote Speaker at the Novo Nordisk Conference South Africa
Enkromelle Andrew offers top-notch keynote speeches and has positioned herself over the years as a go-to expert for keynote speeches, MCing, event moderation, and more
Enkromelle is one of the names to watch out for when it comes to taking the stage on leadership and team culture, delivering impeccable keynote speeches, as well as MCing and moderating events. She has blossomed into a global voice after bossing her way through events organized by some of the world's biggest and most loved brands including Anglo American, First National Bank, Standard Bank, Mercedes Benz, Allan Gray and Estee Lauder amongst many others. With over a decade of experience in the industry having started at a very young age, Enkromelle has quickly climbed her way up the ranks to becoming one of the youngest sought-after and most influential voices in the leadership space.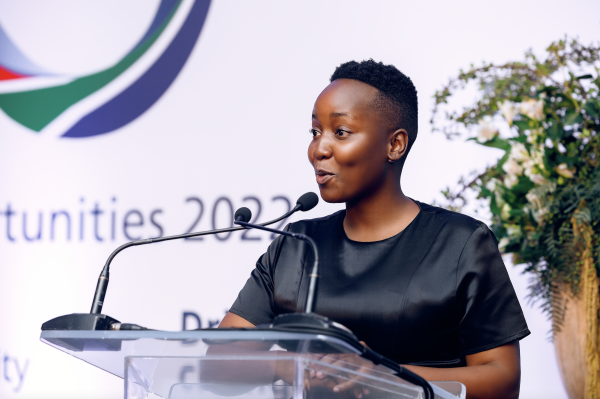 As a seasoned keynote speaker, Enkromelle works with audiences and organizations to motivate a difference in how they interact and react to challenges. Known for her electric stage presence, she inspires winning life and team cultures through new thinking about challenges and opportunities and motivates audiences to immediate action. In her power sessions, she teaches the art of unconventional thinking, adapting, and thriving during uncertain times.
Recently, at the Novo Nordisk Company Conference SA, Enkromelle took to the stage with one of her funny and brilliant keynote speeches, The TINY productivity habits that increase team efficiency. This was a talk centered on helping teams and leaders nurture healthy and productive day-to-day habits to increase team efficiency and performance.
Speaking on Enkromelle's keynote, Nevi Letcher from Velocity Vision had this to say; "Enkromelle is a great speaker. She captivates the audience with her authenticity and relatability. She has great insight on how to empower oneself and has done her work through her journey of self-realization. We were impressed by how funny she is and the way she keeps the audience entertained."
Enkromelle is also one of Africa's most acclaimed corporate MCs. She has hosted numerous high-profile corporate and social events and continues to dazzle thousands through her energy and ability to connect with anyone. She is undoubtedly a powerful voice to look out for.
To book a free 30-minute consultation with Enkromelle Andrew, please visit www.enkromelleandrew.com. For bookings, send an email to [email protected]
Media Contact
Company Name: Enkromelle Andrew
Contact Person: Busisiwe Masondo
Email: Send Email
Phone: +27 65 173 5477
Country: South Africa
Website: http://www.enkromelleandrew.com/