Full House Announces First Card themed NFT Collection
A project by Full House Corporation is powered by 100 Plus Professional Players. Initial collection comprises 100,000 unique NFTs.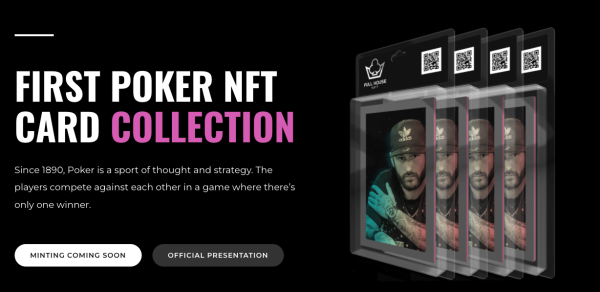 Quebec City, Quebec – Full House Corporation announced the launch of Poker Themed NFTs, the first of its kind. Minting date to be revealed soon at Discord.
What is an NFT?
Not so long ago, the term NFT was exploding on the internet. NFTs have risen to prominence yet again. NFT is abbreviated for Non-Fungible Token. It can be difficult to explain what NFT is exactly. Simply put, digital assets that were previously thought to be eternally repeatable, such as a JPEG file, a virtual sneaker, or even a meme, can suddenly be rendered scarce via blockchain technology. Confused? NFT is an irreplaceable token. Each token is unique. Unlike bitcoins which are fungible. An NFT can be traded with other unique NFT.
Full House PokerCard Collection
The initial collection comprises 100,000 NFTs which will be available in packs of 10, 50 and 100, each including random NFTs. The collection includes 940 NFTs Black Limited Cards, 49 NFTs Silver Rare Cards, 10 NFTs Gold Ultra-Rare Cards and 1 NFT Unique Blue Diamond Card. Card holders will have the authority to trade their card all over the world.

Full House Platform
Full House is a reliable marketplace which is technology driven, advanced and community centered. It ensures value based NFT depending on the earnings of the players. The more players play, the more they earn. The value of players' NFT cards will increase once they earn money. Card holders will have access to the full house platform to buy, sell and trade cards.
Hidden Prizes
Full House believes in making it interesting and rewarding for the NFT owners similar to what the game of poker is. Hidden in one NFT is the Tesla Model X, the lucky NFT owner will hold it in their Metadata. Five NFT cards have PS5 and three NFT cards contain Macbook Air. This and much more to come!

Man Full House NFT
The founder of this project is Mr. Fabien Richard who is a journalist associated with Wsop from the past 15 years. Regarding the project he happily shared: "It is an effort to recognize that poker is a real sports dn deserves the due recognition. It is important to immortalize every poker player in a collection card. We are to the sport of Poker, what sorare.com is to football."
The discord server is set to go live for the public soon. For more details and information, visit their website.
Media Contact
Company Name: Full House Corporation Inc
Contact Person: Fabien Richard
Email: Send Email
Phone: 581-989-1348
City: Quebec
Country: Canada
Website: https://full-house.io/