Ryan Stewman, the 'Hardcore Closer', Announces Segway into NFTs via Purchase of Three BAYC Mutant Apes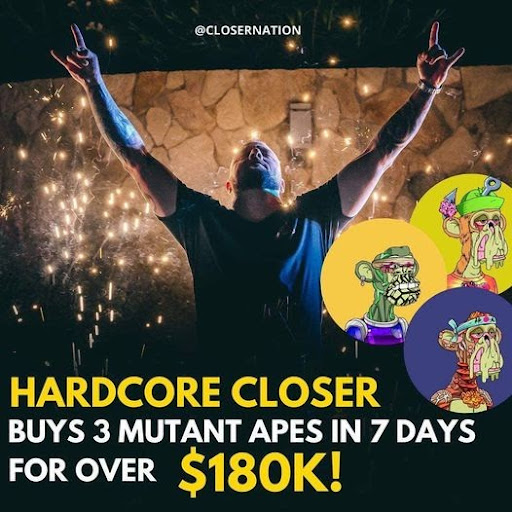 A partnership between Stewman and Apex Executive Group resulted in purchasing Mutant Apes NFTs worth over $180,000 in just seven days
The 'Hardcore Closer', Ryan Stewman, is pleased to announce an exclusive investment of three Mutant Apes non-fungible tokens (NFT), in conjunction with Apex Executive Group.
The Mutant Apes NFT collectibles frenzy was spawned by Bored Ape Yacht Club in April of 2021. The project included over 10,000 NFT tokens which doubled up, themselves, as Yacht Club memberships. Shortly after BAYC unveiled its new project, it also launched a series of three mutations, per mutant serums, the M1, M2, and M3, or the 'Mega Mutant'. In utilizing chainlink VRF technology, exposing the apes to the serums would create over 20,000 new mutant apes. After the public sale, serum variants quickly jumped coins to north of 25K.
Stewman, who is hailed by his following as the 'Hardcore Closer', saw a grand opportunity to invest and, through a partnership with Ape Executive Group, purchased three mutant apes. His purchase immediately placed him in the exclusive Discord channel where other millionaires, celebrities, and athletes share their owned apes as well. In order to be invited to the network, one must have at least $300,000 in their digital wallet. His goal is to leverage the investment in the three apes to make money in more ways than just flipping them.
"I spent enough to buy a house or Lamborghini on pictures of Mutated Apes because I'm betting on them to appreciate, like regular art does," mused Stewman. "The demand is there and, even if I don't yet understand the space, I understand supply and demand. Since I bought them, I've met numerous other people who own them too, including one who gave me a key tip that made me $20,000 in less than 24 hours. This is all just another appreciating asset in my portfolio. If I'm going to do anything, I'm going to do it 'all in' or not at all. I'm all in."
Apex Entourage is the fastest growing and most-powerful network in existence. If a professional is seeking guidance, as well as a network of forward-thinking businesspeople, then it welcomes them to join the elite group for support and finding one's mission. The community consists of sales professionals and small business owners to tap into secrets of lead generation and growth, via social media marketing initiatives.
Interested in joining Stewman's advanced sales and marketing training systems? Join his exclusive Break Free Academy (BFA) by visiting: https://www.breakfreeacademy.com/
About Ryan Stewman
Ryan Stewman is a top contributor to Forbes and has published 13 books, four of which have gone on to be bestsellers. he has coached and helped over 20,000 clients who now represent what winning looks like. He is a full-time investor who has ownership in 30+ companies with hundreds of employees.
For more information, please visit: https://www.hardcorecloser.com/
Media Contact
Company Name: Victorious PR
Contact Person: Victoria Kennedy
Email: Send Email
Phone: (702) 710-7621
City: Las Vegas
State: Nevada
Country: United States
Website: https://victoriouspr.com/