The Anticipatory Introduction of Novel Therapies by Leading Pharma Companies is Expected to Boost the Glaucoma Treatment Landscape
The Glaucoma market size is expected to increase at a constant rate during the study period (2019-32)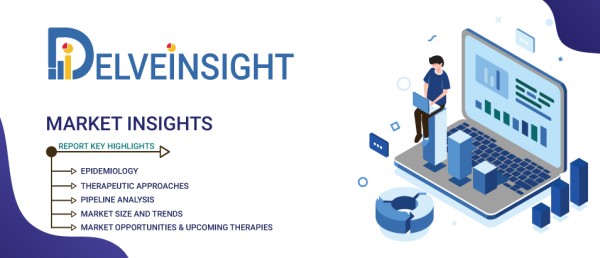 DelveInsight's Glaucoma market report thoroughly explains Glaucoma, historical and forecasted epidemiology, and the Glaucoma market dynamics, and market trends in the 7MM.
Key Highlights from the Glaucoma Market Report
As per DelveInsight estimates, the total Glaucoma diagnosed prevalent population in the 7MM was over 10 million in 2020.

Among the EU5 countries, Germany had the highest Glaucoma diagnosed prevalent population.

The leading companies working in the Glaucoma treatment landscape include SPARC, Laboratories Sophia, Santen Pharmaceutical, Nicox Ophthalmics, Ocuphire Pharma, Kowa, and others.

Key Glaucoma therapies in the pipeline include PDP-716, PRO-122, EYBELIS/Omidenepag isopropyl/DE-117, NCX-470, Nyxol, K-232, and others.

The Glaucoma market size was found to be USD 4000 million in the 7MM in 2020.
Have queries? Request for the sample @ Glaucoma Market Outlook
Glaucoma Overview
Glaucoma is a condition that affects the optic nerve of the eye. It usually occurs when fluid accumulates in the front of the eye. The additional fluid in the eye raises the pressure in the eye, causing damage to the optic nerve. For persons over the age of 60, the disorder is the major cause of blindness. Glaucoma-related blindness, on the other hand, can generally be avoided with early treatment. Glaucoma is divided into two types: primary and secondary.
Glaucoma Epidemiology Segmentation
The Glaucoma report proffers epidemiological analysis for the study period 2019-32 in the 7MM segmented into:
Glaucoma Total Diagnosed Prevalence

Glaucoma Type-Specific (Open/Close) Diagnosed Prevalent Population

Glaucoma Gender-Specific Diagnosed Prevalent Population

Glaucoma Type-Specific (Primary/Secondary) Diagnosed Prevalent Population

Glaucoma Age-Specific Diagnosed Prevalent Population
Glaucoma Treatment Landscape
The current major Glaucoma treatment options include:
Rhopressa/Rhokiinsa (Netarsudil ophthalmic solution 0.02% )

Rocklatan/Roclanda (netarsudil and latanoprost ophthalmic solution)

Xelpros (latanoprost ophthalmic emulsion)

Lumigan 0.01% (bimatoprost ophthalmic solution)

Eybelis Ophthalmic Solution 0.002% (DE-117, Omidenepag isopropyl)

Durysta

(Bimatoprost SR)
Glaucoma Market Outlook
Due to the introduction of new therapies such as PDP-716, PRO-122, and others the Glaucoma market size is expected to increase over the forecast period. During the study period, the Glaucoma market size is predicted to grow at a significant rate.
Discover more about the future market share of the drugs @ Glaucoma Market Analysis
Glaucoma Pipeline Therapies and Key Companies
PDP-716: SPARC

PRO-122: Laboratories Sophia

EYBELIS/Omidenepag isopropyl/DE-117: Santen Pharmaceutical

NCX-470: Nicox Ophthalmics

Nyxol: Ocuphire Pharma

K-232: Kowa
Table of Contents
| | |
| --- | --- |
| 1. | Key Insights |
| 2. | Report Introduction |
| 3. | Glaucoma Market Overview at a Glance |
| 4. | Executive Summary of Glaucoma |
| 5. | Disease Background and Overview |
| 6. | Treatment Algorithm for Open-Angle Glaucoma |
| 7. | Treatment for Glaucoma |
| 8. | Epidemiology and Patient Population |
| 9. | Patient Journey |
| 10. | Marketed Products |
| 11. | Emerging Therapies |
| 12. | Glaucoma: Seven Major Market Analysis |
| 13. | KOL Views |
| 14. | Market Drivers |
| 15. | Market Barriers |
| 16. | SWOT Analysis |
| 17. | Unmet Needs |
| 18. | Reimbursement |
| 19. | DelveInsight Capabilities |
| 20. | Appendix |
| 21. | Disclaimer |
| 22. | About DelveInsight |
Get in touch with our business executive for Healthcare Due Diligence Services
Related Reports
Get a comprehensive analysis of Open-Angle Glaucoma pipeline therapies and key companies, including Aerie Pharmaceuticals, Sun Pharma Advanced Research Company Limited, Santen Pharmaceutical/Ube Industries, Bausch and Lomb, Santen Pharmaceutical Co., Ltd., Nicox Ophthalmics, Sylentis, Envisia Therapeutics, Ocuphire Pharma, among others.
About DelveInsight
DelveInsight is a leading Business Consultant and Market Research firm focused exclusively on life sciences. It supports Pharma companies by providing comprehensive end-to-end solutions to improve their performance.
Media Contact
Company Name: DelveInsight Business Research LLP
Contact Person: Sandeep Joshi
Email: Send Email
Phone: 9193216187
Address:304 S. Jones Blvd #2432
City: Las Vegas
State: NV
Country: United States
Website: www.delveinsight.com/