Black Business Enterprises and Glamlife Events & Parties Host Black Business Ball Fundraiser to Reach a Goal to Give away $10,000 Monthly To Minnesota Black Owned Businesses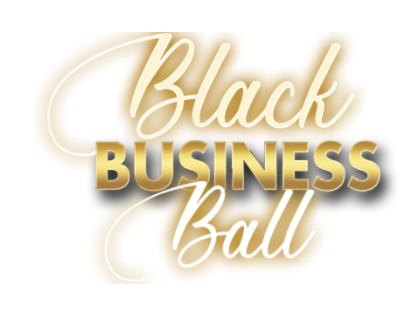 Nancy Korsah, Founder of Black Business Enterprises and the Black Business Ball:
"I want to educate and help my culture create a path to wealth."
Minneapolis Mayor Jacob Frey, Special Invited Celebrities and Twin Cities Businesses and Entrepreneurs expected at the event
Minneapolis, MN – October 22, 2020 – While entrepreneurship and small business ownership for minorities, including African-Americans, has made some progress over the past 5+ decades, there is still much to be done. In an effort to empower the black community and close the racial wealth gap, Black Business Enterprises and GlamLife Events & Parties announce the First Annual Black Business Ball Fundraiser, one of many fundraisers they plan to host quarterly, with a goal of driving transformational change.
In 2017, the top 100 black-owned firms identified by Black Enterprise collectively grossed $27 billion and employed 79,216 workers. While both numbers show growth of our black businesses from previous years, in contrast, Walmart, the top firm by revenue in the U.S., grossed more than twenty times as much in revenue and employed 2.2 million more workers than the entire top 100 black-owned firms. Data from the Small Business Administration indicates that over 70% of all U.S. businesses are white owned and Blacks own about 9.5 % of all U.S. businesses but the sales and employment numbers tell a more depressing story. White-owned businesses have 88% of the overall sales, and control 86.5% of U.S. employment, while black businesses have a mere 1.3 % of total American sales and 1.7% of the nation's employees.
Nancy Korsah, Founder of Black Business Enterprises and the Black Business Ball, main focus and priority is to foster back economics and help the black communities across the US thrive. Nancy says, "I want to educate and help my culture create a path to wealth." Nancy is also known for being the woman that led the push to revive black-owned businesses in Minneapolis following the death of George Floyd., by raising $38,000 to assist several Black Owned businesses on Lake Street to rebuild.
"When Nancy asked me to partner with her on the Black Business Ball I didn't second guess it," said Kimberly "Glamlife Kim" Holifield, Founder of GlamLife Events & Parties and on air talent at the Twin Cities only black-owned radio station, 89.9 KMOJ FM. Glamlife Kim believes the key factor that's limiting black businesses in their development and growth is access to capital.
An Urgent Call to Support Black Owned Businesses: Black Business Minnesota – The Right Way Grants
Dr. Martin Luther King, Jr. called on followers to strengthen black institutions and businesses by moving their money away from the white run business and banking establishments and depositing their dollars into black-owned institutions. This idea that buying and banking with black-owned businesses would empower the black community and close the racial wealth gap has been widely embraced, historically by a diverse array of Americans including Booker T. Washington, Marcus Garvey, Richard Nixon, former President Barack Obama and recently Nancy Korsah and her Facebook Group Black Business Minnesota that had more than 44,000 minority business owners. Unfortunately, just after giving away $10,000 in grants last month, Facebook shut down the Black Business Minnesota Facebook Page because of multiple complaints from White Supremacy groups. This did not discourage nor stop Nancy from her main focus she created another group Black Business Minnesota – The Right Way and partnered with Glamlife Events & Parties to host the Black Business Ball.
ABOUT BLACK BUSINESS BALL
The Black Business Ball is a Covid Friendly, black tie fundraising and social networking event to empower, uplift and honor Black owned businesses and entrepreneurs in the Twin Cities that are positively impacting our community. Hosted by Black Business Enterprises and Glamlife Events & Parties, the purpose of this fundraiser is to help Black Business Enterprises reach its current monthly minimum goal to give away $10,000 to black owned businesses in the Black Business Minnesota – The Right Way Facebook Group.

WHEN: Friday, October 30, 2020
TIME: 6pm to 11pm
WHERE: Union Depot 214 4th St East, St. Paul, MN 55101
COVID POLICY: All guests will have their temperature taken at the event, masks are required to be worn when not seated at the table and eating, sanitizer stations will be placed throughout the venue as well as on each table with a max seating of 6 to a table. Tables will be placed 9ft apart and 11ft diagonally. Although the Union Depot holds 1000 guests the max capacity for this event is 250.
HOSTED BY: Tephanie Delaney (NY WeeklyTop 10 Female Entrepreneur and Founder of blackbuyblack.com)
SOUNDS BY: DJ Dime (Fleet & Professional Global DJ)
ATTIRE: STRICTLY BLACK TIE
BLACK BUSINESS BALL SCHEDULE
6:00 p.m. – Media check-in, photo and interviews on the Red Carpet and in VIP Lounge
7:00 p.m. – VIP Reception and Live Performance by #1 chart-topping Billboard Gospel Recording Artist, Jovonta Patton
7:30 p.m. – 3 Course Dinner Served with music
8:00 p.m. – George Floyd Tribute & Performance by Moyana Olivia
8:15 p.m. – Black Business Award Ceremony
9:30 p.m. – Special Celebrity Guest Appearance/Performance
10:00 p.m. – Black Business Ball Business Grants Giveaway, Dance and Enjoy the rest of the Evening
For more information or to make a donation to the Black Business Ball please visit www.blackbusinessball.com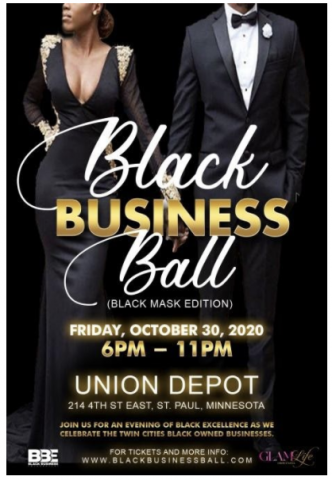 Media Contact
Company Name: Black Business Enterprises
Contact Person: Kimberly Holifield, Glamorous Life LLC
Email: Send Email
Phone: (763) 228-7968
City: Minneapolis
State: Minnesota
Country: United States
Website: https://blackbusinessball.com/