Fanbell Announces the Launch of State-Of-The-Art Anti-Spy Wireless Bug Detector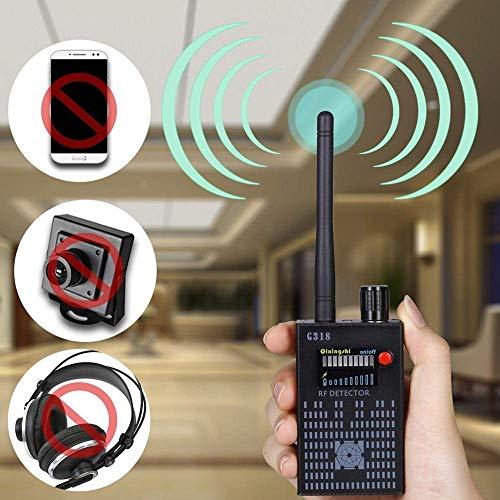 If someone who needs a multifunctional wireless bug detector, FanBell has got covered with their just-in, latest product: a G318 Anti-Spy Bug Detector. The detector comes with a multitude of functions that are compatible with any and all devices and servers, and the best part is that it is foolproof when it comes to detecting GPS and bugs! With the rigorous quality testing and conducting for the electronics range, and the efficient features to get, they are bound to get their hands on something truly special with this one.
Fanbell – The Guarantee of Premium Quality Lifestyle Goods
With 8 years in the market of retail selling under our belt, FanBell was founded in 2012 and has expanded into a global online retail company that offers a wide range of household and lifestyle products in multiple categories, including electronics, gardening, pets and the like, all thoroughly quality tested and directly shipped to consumers globally.
About the business
Looking for a mutually beneficial partnership or an individual customer looking for a trustworthy store, FanBell is the one-stop location for all the needs. If anyone is on the fence about which online retailer should be their go-to when making an expensive electronic purchase, the electronics section does not only have the best prices on the market owing to incomparable affordability, but they have five-star, impeccable ratings awarded by new and old customers alike.
Electronics: This particular range serves all the household electronic needs from cameras to binoculars to microscopes, and the brand new anti-spy bug detector stands out in this category! With premium quality manufacturing to products exactly the same as their website image – this range is ideal for the most functional and yet affordable electronics.

Beauty: Looking for bulk purchases or individual use items, the beauty section of FanBell contains a multitude of goods for everyone. With bulk-sold items like wax hair removal kits saving from spending a pretty penny, to individually-sold beard trimmers and shower loofahs, and organizers to store all the products neatly, this section has something to cater to everyone.
Home and Garden: Whether they want to give their house a little extra color and something new in the line of sight or stickler for horticulture and are obsessed with the plants, the Home and Garden line makes that vision a reality. Redecorate the favorite spot or perform their hobbies with the ultimate organization and skill, by purchasing our kitchen sets and the practical gardening tools!
Pet Supplies: The furry baby need not miss out on the treats FanBell can bring at the best prices! Whether it is essentials like food bowls, leashes and dog and cat beds, or grooming necessities like brushes, nail clippers and mitts get something special for the best friend!
Sport and Outdoor: If someone are a fitness freak, or enjoy outdoor recreational activities like camping, backpacking, trekking and horse riding, Fanbell's sport and outdoor store is a treasure trove of modern and convenient weatherproof tents, folding binoculars for sightseeing and wildlife observation and- wait for it- portable tent fans to beat the heat! If they like working out indoors, never fear, for the sports section contains gym essentials like yoga mats, exercise balls and push up boards, and also items for athletes, all at inexpensive rates!

Cutting-edge and Futuristic – The K18 Anti-Spy RF Detector
If someone are sick of malware clogging the data or constant surveillance becoming a daily nuisance in life, the star of the show, the wireless multi-functional bug detector comes equipped with a range of practicalities. The variety of advantages coming from such an affordable product is truly astounding! The ultimate feature of this piece is that it can detect bugs in any quantity of data, whether it be as little as 1.2G or up to 5.8G, clearing all the data of cumbersome malware. If someone values their privacy as much as they should, this device can also detect, up to a range of 1MHz-8GHz, wireless cameras and GPS, making it functional for not just businesses whose Meta data can be under threat, but also individuals. The potential of interference and slow response is greatly reduced by the ultra-high sensitivity of the upgrade chip, keeping the signal detector stable at all times.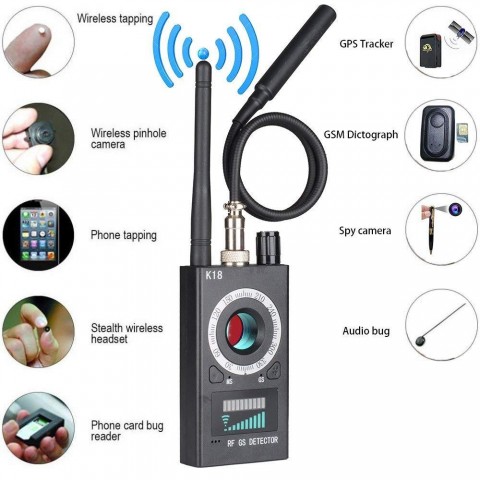 This device's uniqueness is further amplified by the number of functions it can perform, with the detecting prowess it showcases around wired cameras, wiretapping devices, and even sensing leakage from microwaves. The 3 detection modes are RF signal detector, magnetic field detector and the camera lens locator providing no possibility of any of these slipping out of the notice. Large service does not always mean large size, and sine this device is functional, it looks like a compact, lightweight walkie-talkie. If they fear spy cams in changing rooms or hotels, this device is supremely easy to use.
The closer the FanBell Anti-Spy Bug Detector is in the vicinity of tapping cameras, or any other form of bug devices, the audible buzzer starts to go off, indicating that the device is near to the person with the switching of indicator lights. It is also the optimum choice for protecting the privacy by allowing maneuvering the detection sensitivity, so they can remove and discard the bug device. Simply wary of hotel and changing rooms, or the job requires the protection of important data, this device is ideal for all these needs.
Customer Care
FanBell offers warranty, and guarantees longevity on all its products. For quick assistance, they can be reached out for any concerns. The consumer reactions FanBell receives are a true indication of the quality: 'Very good quality, it works as described. Good detection rate', said one customer. Another satisfied customer left a review stating, 'Pretty nice for the price. I tested it for RF (cell phone) and infrared motion sensor: the bars lit up to red, and the beeper sounded. The long antenna is very helpful.'
"We at Fanbell not only ensure premium quality, but also keep in mind affordability," says Carol, Marketing Director at Fanbell, "As with our recent product, our other products too are geared towards achieving technicalities that are unique and of good use. Our customers are our most valuable source of information and we love ensuring their satisfaction with our products at all times.'
Media Contact
Company Name: FanBell
Contact Person: Cecilia
Email: Send Email
Phone: 13580383996
Country: United States
Website: fanbell.net